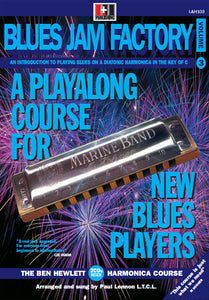 About this harmonica course
It's available in three formats:
1. PDF and audio - the best for learning as you can hear the music and see the notation and tabs as well.
2. Audio only. Stereo mp3s of each track with the band on the right and the harmonica on the left - change the balance to suit you.

3. PDF only. Tab and conventional notation throughout.

Each lesson is recorded at different speeds - learn at your own pace.
Download the material and enjoy these harmonica lessons!
Ben explains more in our video:
We teach you the basic easy blues shuffle rhythm with several chugging tracks - these are the backbone to playing blues with rhythm, and rhythm is what music is all about!
Next, you'll learn the classic Chicago 'Mannish Boy' style riff and improvise around it - with a recorded live audience cheering you on!
Then, you'll learn about the 12-bar blues pattern and how to play it. Again, some tracks have been recorded 'live' with a ready-made crowd of fans applauding your efforts.
We then teach you some single note pieces to play in blues style - the sort of thing a bass player would use - and finally some handy horn lines to use when you're not soloing.
Extras include a 'call and response' track where you will listen and try to copy the soloist as you go along, and also some tuition from Paul in different types of simple scales to help you sound great when you improvise.
Learn harmonica with us online