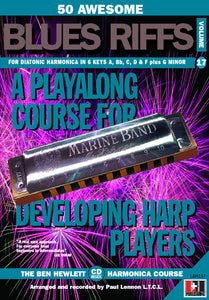 About this harmonica course
It's available in three formats:
1. PDF and audio - the best for learning as you can hear the music and see the notation and tabs as well.
2. Audio only. Stereo mp3s of each track with the band on the right and the harmonica on the left - change the balance to suit you.

3. PDF only. Tab and conventional notation throughout.

Each lesson is recorded at different speeds - learn at your own pace.
Download the material and enjoy these harmonica lessons!
Ben explains more in our video:
These play along harmonica lessons for developing or intermediate harp players are inspired by some of the best harmonica players we know. We've studied their styles, distilling them into something new, exciting and original to help you expand your blues repertoire.
Our inspirations include Sonny Boy Williamson II, Little Walter, Big Walter, William Clarke, Sonny Terry, Lee Oskar, Paul Lamb, Howard Levy, not Bob Dylan, Charlie Musselwhite, Jason Ricci, Steve Baker, Don Baker, Brendan Power, Junior Wells, Howling Wolf, Billy Boy Arnold, Joe Filisko, Tom Ball, and more.
We want you to learn as many riffs as possible and use them in your solo and backing playing. You may find some of these riffs long and challenging - if you're finding them too hard, then try 101 Blues Riffs instead - these were written in response to people requesting more of a stretch!
Please note that you will need several harmonicas to complete this course - A, Bb, C, D, F and G natural minor.
Learn harmonica with us online