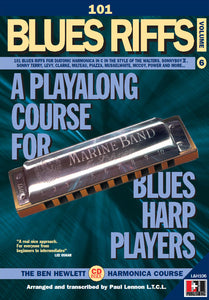 About this harmonica course
It's available in four formats:
1. PDF and audio - the best for learning as you can hear the music and see the notation and tabs as well.
2. Audio only. Stereo mp3s of each track with the band on the right and the harmonica on the left - change the balance to suit you.

3. PDF only. Tab and conventional notation throughout.

4. Video. Prerecorded video lessons with Ben
Each lesson is recorded at different speeds - learn at your own pace.
Download the material and enjoy these harmonica lessons!
Ben explains more in our video:
Learn 101 fantastic blues riffs for the diatonic harmonica in C.
These classic riffs are inspired by a variety of wonderful players, then simplified a little and played for you at three different speeds for you to practise.
You can learn these riffs for your solo and backing playing. We strongly advise you to practise every day, and with time, persistence and you developing a good ear, you'll be able to really use, modify and take ownership of the riffs.
Learn harmonica with us online