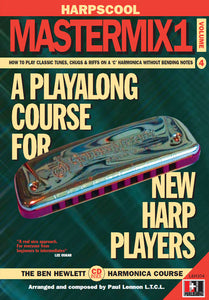 About this harmonica course
It's available in three formats:
1. PDF and audio - the best for learning as you can hear the music and see the notation and tabs as well.
2. Audio only. Stereo mp3s of each track with the band on the right and the harmonica on the left - change the balance to suit you.

3. PDF only. Tab and conventional notation throughout.

Each lesson is recorded at different speeds - learn at your own pace.
Download the material and enjoy these harmonica lessons!
Ben explains more in our video:
Mastermix is a great blend of train-style chugs, a blues/rock mastermix and an original piece to use them with, plus some original simple pieces, four classic tunes and guest artist tracks kindly supplied by Brendan Power and Aidan Sheehan.
Everything here is unique to the Mastermix, and doesn't appear on any of our other albums.
Hering Harmonicas called it "the ultimate format for teaching yourself how to play the harmonica."
Learn harmonica with us online