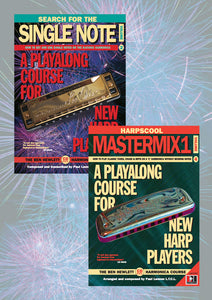 About this harmonica course
It's available in three formats:
1. PDF and audio - the best for learning as you can hear the music and see the notation and tabs as well.
2. Audio only. Stereo mp3s of each track with the band on the right and the harmonica on the left - change the balance to suit you.

3. PDF only. Tab and conventional notation throughout.

Each lesson is recorded at different speeds - learn at your own pace.
Download the material and enjoy these harmonica lessons!
Ben explains more in our videos:
The great thing about this collection is that the first book teaches you how to play the second book.
Search for the Single Note starts at the very beginning of playing single notes on the harmonica, in other words with hole one and hold ten.
It guides you through the process of playing single notes gradually increasing your capacity and ending up with enabling you to play all of the unbent notes on the harmonica within simple exercises and small tunes.
Mastermix 1 leads on from Single Note via some train sounds and some blues riffs in third position.
The four simple tunes at the back of the book were originally written by Paul Lennon for beginner flute players but work very nicely on the harmonica, and are perfect for people just starting out playing single notes.
This leads you into tunes that are more well known but still quite simple, When The Saints, Bach Menuet, Scarborough Fair, and Silent Night.
You will also find some brilliant train sounds written down whilst on a train in Asia, so we can be sure they are original!
Learn harmonica with us online