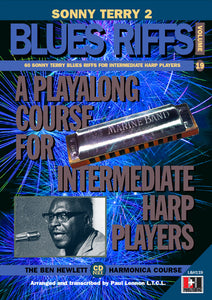 About this harmonica course
It's available in four formats:
1. PDF and audio - the best for learning as you can hear the music and see the notation and tabs as well.
2. Audio only. Stereo mp3s of each track with the band on the right and the harmonica on the left - change the balance to suit you.

3. PDF only. Tab and conventional notation throughout.

4. Video. Prerecorded video tuition from Ben
Each lesson is recorded at different speeds - learn at your own pace.
Download the material and enjoy these harmonica lessons!
Ben explains more in our video: 

If you are new to Sonny Terry please start with 'Sonny Terry Blues Riffs Book 2'
Each of the 60 featured riffs is played at three speeds, full tempo, slowed down, and somewhere in the middle, comes with interactive guitar and drums, and is written in standard music notation with harmonica tabs.
We start with simple exercises to get your chops working, and build up to some trickier rhythmic and textural playing.
You'll master a wide variety of Sonny's techniques as you work through the book, ending with four play along tracks so you can practice what you've learned.
We've produced the backing tracks in a more modern idiom than the original Brownie McGhee style, tapping the more rocky vein of Sonny's album with Johnny Winter.
There's also a special bonus track from Grammy Award-winner Peter Madcat Ruth. His 'Georgie Buck' is a real Sonny Terry-style extravaganza - listen to more of his music at madcatmusic.net.
Learn harmonica online with us