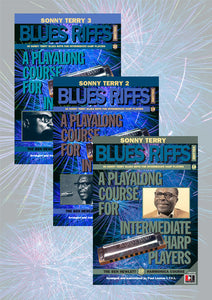 About this harmonica course
It's available in three formats:
1. PDF and audio - the best for learning as you can hear the music and see the notation and tabs as well.
2. Audio only. Stereo mp3s of each track with the band on the right and the harmonica on the left - change the balance to suit you.

3. PDF only. Tab and conventional notation throughout.

Each lesson is recorded at different speeds - learn at your own pace.
Download the material and enjoy these harmonica lessons!
Ben explains more in our videos:
Sonny Terry Riffs – 180 riffs in an 'easy to learn' package

Learning to play like the wonderful Sonny Terry has never been easier. Ben Hewlett and Paul Lennon have put three of their best-selling books together in one amazing download package just for you.
To make it quick and easy to learn, each riff is presented at different speeds as well as written out using harmonica tab and standard music notation just in case your ears can't figure out the notes and rhythms.
So, download this amazing package now and start playing like Sonny Terry.
The greatest living experts of Sonny's style say:
"Sonny Terry was without question, one of the most well known of all blues harmonica players. Ben has taken numerous essential Sonny Terry licks and broken them down at three different speeds for you to access and learn as simply and painlessly as possible.
If you follow him, Ben will put you on the fast track to the summit of the musical mountain of Sonny Terry. This is indeed a journey that all harmonica players should experience."
Joe Filisko September 2009 http://www.filisko.com
"I first heard Sonny Terry on the radio in 1964.  My mind was blown, and my life was changed.  A few days latter I bought a Sonny Terry phonograph record and started to try to figure out how to play harmonica. 
My task would have been a lot easier if Ben Hewlett's Sonny Terry Riffs books were available back then.  I highly recommend you take advantage of this great opportunity to learn to play harmonica like Sonny Terry.  Enjoy!"
Peter Madcat Ruth (Grammy award winner) http://www.madcatmusic.net
Learn harmonica online with us