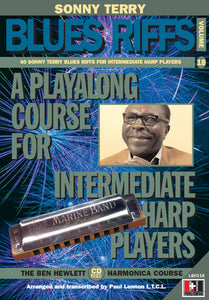 About this harmonica course
It's available in three formats:
1. PDF and audio - the best for learning as you can hear the music and see the notation and tabs as well.
2. Audio only. Stereo mp3s of each track with the band on the right and the harmonica on the left - change the balance to suit you.

3. PDF only. Tab and conventional notation throughout.

Each lesson is recorded at different speeds - learn at your own pace.
Download the material and enjoy these harmonica lessons!
Ben explains more in our video:
If you are new to Sonny Terry please start with 'Sonny Terry Blues Riffs Book 2'

In our first book of riffs devoted entirely to one harmonica star, harp players can learn to play traditional blues riffs like the great Sonny Terry with our easy-to-follow harmonica lessons.
Sonny Terry has been and continues to be a huge influence on generations of harp players - these Sonny-style riffs will introduce the developing harmonica player to the sound of the great man himself.
There are 60 riffs in the collection and you'll need four keys for them - A, G, Bb and C. The riffs are performed at three different speeds and the notation and tab gives as much helpful information as possible.
We end with four play along tracks, one in each of the harmonica keys, for you to try out the riffs.
On a special bonus track, our buddyJoe Filisko has kindly given us permission to include 'Good Friend', which is dedicated to Sonny Terry.
Learn harmonica with us online