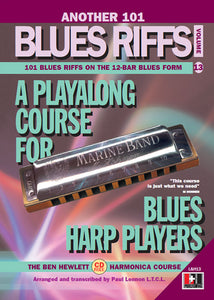 About this harmonica course
It's available in three formats:
1. PDF and audio - the best for learning as you can hear the music and see the notation and tabs as well.
2. Audio only. Stereo mp3s of each track with the band on the right and the harmonica on the left - change the balance to suit you.

3. PDF only. Tab and conventional notation throughout.

Each lesson is recorded at different speeds - learn at your own pace.
Download the material and enjoy these harmonica lessons!
Ben explains more in our video:
These play along harmonica lessons for developing or intermediate harp players are inspired by some of the best harmonica players we know. We've studied their styles, distilling them into something new, exciting and original to help you expand your blues repertoire.
You'll learn riffs for the one chord, the four chord, the five chord, intro riffs and turnaround riffs. We've also written riffs for the five/four chord transition, riffs that you would normally play in the low/middle octave, transposed up to the top octave. There are also riffs transposed from the top octave down to the middle, giving you more flexibility to be bluesy on all parts of the harmonica!
Each riff is played at three speeds: first, at full speed, then very slowly, and then somewhere in the middle. We have notated every riff with normal music notation and harmonica tabs. Each track comes with live guitar and drums to help you get into the groove and help you play at the correct tempo with the right 'feel'.


Learn harmonica with us online