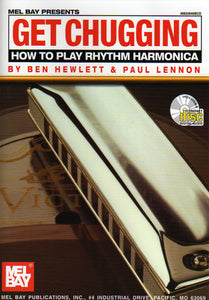 About this harmonica course
It's available in three formats:
1. PDF and audio - the best for learning as you can hear the music and see the notation and tabs as well.
2. Audio only. Stereo mp3s of each track with the band on the right and the harmonica on the left - change the balance to suit you.

3. PDF only. Tab and conventional notation throughout.

Each lesson is recorded at different speeds - learn at your own pace.
Download the material and enjoy these harmonica lessons!
Ben explains more in our video:
This course will get you started, teaching you how to play in rhythm and how to breathe - the very foundations of music and harmonica playing. It uses articulation (loud whispering of crazy phrases) and gets you chugging along with various styles of music compose for the course including blues, country, reggae, Indian, African, funk and more.
It's challenging and fun, and you'll be able to do the whole lot without needing to read music! The audio tracks are 'stand alone', so you can do the whole course without looking at the book.
We have, however, included a book to expand on the written form of music - this is a skill we encourage students to acquire along with learning to play and improvise by ear.
'A real nice approach, and a wonderful teaching tool for everyone from beginners to intermediates.' Lee Oskar himself!

Learn harmonica with us online