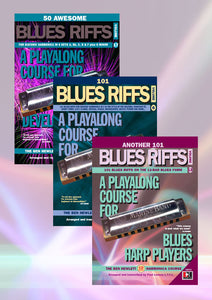 About this harmonica course
It's available in three formats:
1. PDF and audio - the best for learning as you can hear the music and see the notation and tabs as well.
2. Audio only. Stereo mp3s of each track with the band on the right and the harmonica on the left - change the balance to suit you.

3. PDF only. Tab and conventional notation throughout.

Each lesson is recorded at different speeds - learn at your own pace.
Download the material and enjoy these harmonica lessons!
Ben explains more in our videos:
This easy-to-learn package will teach you how to play 252 amazing blues riffs.
The first book, 101 Blues Riffs, starts with simple chugging riffs and then moves on to riffs in the style of famous players such as Deford Bailey, Sonny Terry, Little Walter, Sonny Boy Williamson II, William Clark, Howard Levy, JJ Milteau, Brendan Power and others.
The second book, Another 101 Blues Riffs, focuses on riffs that are used in the different parts of the 12-bar blues.
This answers such questions as: How do you start a blues? How do you end a song clearly? Which riffs work really well on the five chord? How do you play a turnaround riff?
If you get this package you will learn the answer to all these questions and more.
You will learn how to play hundreds of riffs which will enable you to play the blues and sound really good in a band or to your music at home, or at your local jam session.
Lastly, in 50 Awesome Blues Riffs, we show you how to make your playing outstanding. These riffs are quite challenging but will set you above the other harmonica players in the jam!
To make it quick and easy to learn, each riff is presented at different speeds as well as written out using harmonica tab and standard music notation just in case your ears can't figure out the notes and rhythms.
So, download this amazing package now and start playing like the Blues God(ess) you really are!
Learn harmonica online with us